Opening a retail store requires more careful planning than meets the eye, especially in today's competitive landscape. To open a successful brick-and-mortar store, you need a business plan including market research and a legal structure for your business, an ideal storefront location, startup funding, products, and a team of employees ready to sell.
Learn how to start a retail business in 10 simple steps:
1. Create a Retail Store Business Plan
Creating a formal business plan is a crucial step for starting any business. Writing a business plan gives you a definitive path to follow, ensures you've done proper market research, and sets you up for success. Companies that write a business plan are twice as likely to grow over the following year than companies that don't.
The Small Business Administration (SBA) outlines two types of business plans: traditional and lean startup. Traditional business plans are more thorough and ideal if you are requesting funding such as loans. Lean startup business plans are more informal and designed for businesses that are more fluid and will change a lot as they grow. When opening a retail store, we recommend following a traditional business plan. It's more detail-oriented, and it can never hurt to be too prepared. Plus, it will give you a more concrete outline to show business partners or possible investors, such as banks.
The nine elements of a traditional business plan are:
Executive summary: High-level paragraph outlining your company's purpose, mission, and why it will be successful.
Company description: Be specific about your company's details, including what problem you are solving, how you will solve it, what consumers you plan to serve, and the talent on your team.
Market analysis: Include industry outlook and trends, what successful competitors are doing, and what your strengths will be.
Organization and management: Outline who will be running your business and the experience your team members have in retail or startup environments.
Product line: Outline what kinds of products you will sell, why they are needed, and include any research and development on private labels or proprietary custom products.
Marketing and sales: Describe the tactics you will use to obtain and retain customers.
Funding requests: If you need outside funding, outline your needs and specify exactly how you will use the funds.
Financial projections: Detail how your business will become stable and profitable, including a projected financial timeline of at least five years.
Appendix: Use this space for any supplemental documents, such as product prototypes and pictures, credit histories, licenses, permits, and so on.
For more information, you can read our ultimate guide to writing a business plan. This may seem like a lot of information, but it is best to keep each section succinct so that readers can easily get through the entire document and absorb all of the information—the "why" behind the "how" you will start a retail business. When it comes to actually writing and formatting your business plan, there are a few different options to choose from.
Of course, you can type away in traditional word processing software like Microsoft Word or Google Docs. You can also build your business plan as a slideshow in PowerPoint, which is a great option if you need to present your plan to an audience. There are also business plan software tools available, such as LivePlan, that have industry-specific templates.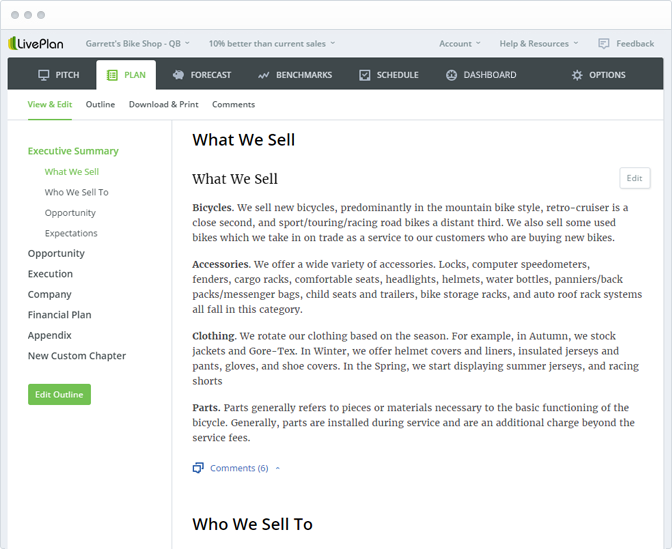 LivePlan offers fill-in-the-blank business plan templates.
2. Determine Your Niche & Select Products
Carving out a niche for your retail store helps differentiate your business from the competition. With retail giants like Amazon and Walmart, the competition is fiercer than ever. And truthfully, many large retailers, like department and box stores, carry very similar products. So, having a unique perspective will help you offer something shoppers can't get at their local Target (aside from feeling great about shopping small).
A niche market is a small group of consumers that have a shared, specific interest. The narrower your interest is, the easier it will be for you to become the go-to retail destination for that market. For example, there may be a dozen stores in town that sell pet products, but you may be the only retailer that specializes in dog costumes.
Our guide on how to find a niche market outlines three steps retailers can take to find their niche:
List your hobbies and interests: As a store owner, you will spend a lot of time engulfed in your chosen niche, so your own interests are a good place to start; plus, choosing something you are interested in will make your store more authentic.
Research the potential for each niche: Make sure you choose a topic that has good money-making potential by doing research on Google Trends and checking out competitors on social media.
Research potential profits: Determine how profitable each niche could be by looking at industry statistics and Amazon Best Seller lists to see what sales are like for your chosen categories.
Amazon Best Sellers lists highlight popular products by category.
Retail Market Research
Instead of picking a few niches that you are interested in and then doing research, you can also start by doing primary market research on your target audience and figure out their interests. If you are opening a brick-and-mortar storefront, you can study your audience directly to determine their needs. It's possible, and likely, there are some specific needs locals have that your store can fill.
Effective market research tactics include:
Sending Out Surveys for Your Retail Store
What is the best way to figure out what local shoppers want? Ask them. Surveys are an easy and effective way to gather a lot of useful data. Established businesses typically use their customer database to send out emails. But because you don't yet have a customer database, you can promote your survey through local Facebook groups and targeted Facebook Ads.
Your first surveys can be very broad and simply ask local consumers about their current favorite stores, what their interests are, and why they like certain stores. As you get closer to choosing specific products, you can send out surveys to measure customer interest and reaction to specific items. We outline this kind of product development survey and offer a free template in our customer satisfaction survey article.
Conducting Consumer Panels & Focus Groups
Surveys can provide more accurate data than a focus group or consumer panel, but these types of information-gathering sessions can provide nuanced details and deeper insights that might otherwise be missed in a survey.
Tips for conducting focus groups:
Keep your group small: Around eight to 10 participants is ideal so everyone's voice can be heard.
Incentivize participants: In your advertisements, make it clear there is a cash or gift card compensation for their time.
Choose participants wisely: Have participants RSVP to make sure they live or work near your store's future location.
Have participants fill out a contact form before you begin: Provide consent forms indicating their responses will be recorded.
Start with general questions: Get the group started by asking general icebreaker questions. Then move into asking for feedback on products and shopping preferences.
Make sure everyone gets equal talking time: Your goal is to get a variety of opinions, so do your best to prevent one or two participants from dominating the conversation.
Stay neutral: Remember to stay open to feedback and don't guide participants or try to persuade them. Focus groups are all about collecting feedback. There's no need for consensus.
3. Choose a Legal Structure for Your Retail Business
Choosing a legal structure for your business is important because it determines how you will collect and report taxes, how you will get paid from your business, and your level of personal liability. There are many types of legal structures, but the three most commonly found in retail are sole proprietorships, limited liability companies (LLCs), and corporations.
Sole Proprietorship
If you don't set up a legal structure for your business, this is the default. It essentially means you're doing business as an individual, and therefore are not separated from your business in any way. Sole proprietorships are popular options for freelancers, business consultants, and other individuals conducting low-risk and low-visibility work by themselves.
Pros of Sole Proprietorship
With sole proprietorships, your business revenue is considered personal income. This means you will pay sole proprietorship taxes based on your personal income bracket. While you are subject to self-employment taxes, you do not have to pay any corporate taxes, which is a plus.
Cons of Sole Proprietorship
However, sole proprietorships are not a good option for retailers, especially if you are opening one or more storefronts. While they are the most flexible and easiest to manage, sole proprietorships also come with greater risk. Because you and your business are one and the same, your personal assets, such as your house and car, are at risk if there is any kind of lawsuit against your business or if you declare bankruptcy.
Limited Liability Company
Limited liability companies (LLCs) are legal structures for small businesses that protect your personal assets, such as your house and car, in the case of lawsuits or business bankruptcy. This is the most popular legal structure for small retail businesses, and the one we recommend if you are planning on maintaining a single storefront.
Pros of LLC
LLCs function in a very similar way to sole proprietorships in that they are flexible. If you are the single owner of the LLC, you will likely still pay taxes the same way you would as a sole proprietorship, but with the benefit of having your personal assets protected from liability.
Cons of LLC
LLC is our recommendation for structuring your retail business because it provides some legal protection while still offering business owners flexibility. However, many states have separate LLC taxes, which may make it more expensive than operating as a sole proprietor.
In order to form an LLC, you need to choose an official name and file paperwork to establish your company, whereas a sole proprietorship does not require any paperwork. Luckily, the paperwork is not overly extensive can be easily filed in just a few steps using a tool like LegalZoom. Visit our guide on how to set up a LLC with LegalZoom for further details.
Corporation or C-corp
Corporations are the most structured legal form for your retail business. They have strict tax guidelines. When you create a corporation, it's a completely new and separate entity in the eyes of the government and the IRS.
Pros of C-corp
Corporations are an ideal structure for businesses that want to expand into multiple storefronts, branch out into franchises, eventually become a public company, or want to secure a lot of outside funding. Corporations provide you the most personal liability protection out of the three legal structures.
Cons of C-corp
If you are a small business such as a single storefront, paying taxes as a corporation might be more expensive than if you were structured as an LLC. Since the corporation is a completely separate entity, you will need to pay federal corporate tax and personal income tax. It can also be expensive and time-consuming to form a corporation, and you will need to keep more careful and detailed business records.
4. Organize Your Financials
Regardless of which legal structure you choose, it's critical to separate your business finances from your personal accounts right from the beginning. Having a dedicated business account will make it much easier to track expenses and income, which will help you stay on track financially, and you'll have an easier time filing your taxes. Not to mention, if your personal and business finances are combined, that could "pierce the corporate veil" of your LLC if things go wrong.
Top Choices for Retail Business Bank Accounts
When it comes to choosing a small business checking account, the options are virtually unlimited. Look for a bank that is small business-friendly with few fees. Make sure there are branches close to your store or home. As a retailer, you will likely be making many cash deposits and making change, so getting to the bank should be convenient.
Also be sure to consider other features that will make your life easier, such as mobile banking features like online check deposit. Consider whether or not the bank has features that will help as your business grows, such as business credit accounts, loans, and overall branch location accessibility.
Chase is a great banking solution for retailers because they offer small business checking, business credit cards, and merchant services (payment processing) so that retailers can manage all of their cash flow in one place. Plus, Chase offers competitive rates and great customer service. Contact Chase to learn more about their small business retail solutions.
Invest in Accounting Software for Retailers
In addition to a small business checking account, you will also want to have an accounting software program. There are a lot of expenses to run a retail store, such as products and shipping, employee wages, and advertising costs. Accurately tracking your income and expenses will help you see exactly how much revenue you are making, where your expenses are high, determine your product purchasing budget, and make filing taxes a million times easier.
QuickBooks is one of our favorite accounting programs for small businesses because it is affordable, user-friendly, and integrates with many popular retail POS systems. QuickBooks offers different plans, so the software can grow with your business. QuickBooks plans start at just $10 per month, plus they offer a free 30-day trial. Visit QuickBooks to get started.
5. Secure Funding for Your Retail Store
Opening a retail store requires a lot of upfront investment. You need to sign a lease on a physical space, invest in renovating that space, purchase products, set up your POS system and payment processing hardware, advertise like crazy, invest in a grand opening, and pay staff. It sounds expensive because it is expensive. Altogether, opening a retail store can cost up to $100,000.
Types of Small Business Funding
To fund your retail store, ideally you have a decent chunk of your upfront costs saved up that you can invest personally. But there are also plenty of small business loans and credit cards you can use to fill in the gaps. Choosing between small business loans and credit cards can seem daunting. The biggest factors to consider are the interest rates (APRs), upfront fees, and application requirements.
If you are just starting out and have no business income history, or if you have a lower credit score, choosing a business credit card may be the better option. A credit card will also give you more flexibility to account for unexpected expenses. Visit our guide on the best small business credit cards to see which one may be right for you.
An alternative option for funding your business is using your IRA or 401(k) retirement account. Your initial reaction to this idea may be "Whoa, absolutely not." But using your retirement account to fund your business doesn't necessarily mean you are cashing out or borrowing against your account.
There is an option called Rollover for Business Startups (ROBS), which lets you invest retirement funds into your new business without paying taxes or early withdrawal penalties. This process can be complicated. So, if you are interested in using your retirement account to fund your business, we recommend working with an experienced provider like Guidant.
6. Choose a Storefront Location to Open Your Retail Store
Choosing a location can seem overwhelming: Where do you start? How do you know if you're choosing a profitable area? When choosing a location for your business, narrow down your options first based on practicality and convenience. How far are you realistically willing to commute every day for the foreseeable future? Choose areas that are easily accessible from your residence. Spend time in each area to become familiar with specific neighborhood demographics and preferences, and to scope out other local businesses.
It may be tempting to use a real estate agent to help you navigate the ins and outs of each neighborhood. But Dale Willerton of The Lease Coach, experts on retail site selection and lease negotiation, recommend contacting listings directly.
When selecting a location for your business, Dale Willerton, The Lease Coach, says "beware of wolves in sheep's clothing—it may feel like the real estate agent is helping the tenant, but when was the last time anyone did anything valuable for you for free?" Contact the Listing Agent for each property for lease and try to deal with them directly."

– Dale Willerton, The Lease Coach
Analyze Foot Traffic
There are many factors that go into choosing the right location for your business. But in the end, it all comes down to picking the location that will attract the most customers. For many retailers, foot traffic can account for most, if not all, of your sales. This is especially true for convenience stores, for example. Almost all of your sales will be walk-in impulse buys. But if you are operating a dog costume specialty shop, you might have more customers drive specifically to your store.
Our guide to determining foot traffic outlines how to calculate whether it's worth splurging on a prime storefront location. It's also important to consider the different types of foot traffic and what time of day it occurs. It may not always be what you expect. For example, there is a cafe and bakery in my hometown that is located in a central business district. It's a few minutes out of the way for most commuters, so they do decent business during the morning rush hour. But the cafe is only a block away from the town's middle school. Its business is slammed on weekdays around 2 p.m. with all of the teenagers who walk over when school gets out.
This is one example of a foot traffic pattern you wouldn't be able to predict if you weren't familiar with the area, which is why it is super important to spend lots of time casing out prospective store locations.
Tip: Foot traffic is an important data point to continue using even after your store is up and running. It helps you staff more accurately and identify missed sales opportunities. Solutions like Dor will track foot traffic data and integrate with many popular POS solutions. You can also choose a POS solution like Springboard, which has a built-in foot traffic measuring solution.
Talk to Your New Neighbors
In addition to staking out your prospective storefront, also ask questions about the traffic, shopper demographic, and neighborhood. Of course, ask your listing agent as many questions as you can while viewing the space. But keep in mind their motive of getting a lease signed. Instead, visit neighboring businesses, introduce yourself, and ask business owners or managers if you can take them out for coffee to get some feedback on the location.
Important questions to ask about the property include:
Who is the landlord and how is the property managed? Other businesses and employees in the space you are interested in will give you honest feedback about the landlord's maintenance style, how they handle things like snow removal, and general property upkeep.
Why did the previous tenants leave? Look into tenant turnover in the complex, and talk to tenants who left, if possible, to discuss their experience in the space.
What's the busiest time of day and days of the week? Get other tenants' opinions on traffic to the area.
How long do tenants stay in the space? If you're in an area surrounded by other storefronts, it's best if they are established stores with regular customers that can help drive traffic to your new shop.
Consider Parking & Signage
In addition to foot traffic and tenant feedback, it's also important to consider other storefront factors that can majorly impact your retail business. For example, does the space have a dedicated parking lot? If there isn't a dedicated lot with ample spaces, and street parking is difficult, potential shoppers might not make the effort to visit your store.
Also consider what signage and street-facing display options are available. In order to draw in all of that foot traffic you monitored, shoppers need to know your business is there. Ideally, your storefront will be facing a busy street. If the location is set further back, is there a large sign by the driveway where passersby can easily see what businesses are inside? Ask the listing agent and neighboring tenant about what signage options are available and who pays for them.
Also, make sure you're aware of any town or city policies that could affect your storefront marketing. For example, some towns place restrictions on how big the sign on the front of your store can be. Other towns forbid temporary signage like A-frames.
Don't Ignore Your Budget
As we mentioned earlier, splurging on a prime location can be a savvy move if you are opening the type of retail store that relies heavily on impulse purchases, such as a corner convenience store or a souvenir shop in a tourist town. But most boutiques need to stick within their budgets, which means spending less than 10% of your monthly gross sales on rent. Our guide on How to Find and Lease Retail Space outlines different types of leases and terms to be aware of, and how to calculate your monthly rent budget.
7. Create Your Retail Store Design
After securing a retail storefront, it's time to start strategically planning the interior. As we outline in our article Planning Your Store Layout in 7 Steps, how you lay out your store can have a dramatic impact on in-store sales. A well-designed layout will welcome shoppers, make them feel comfortable, and strategically direct them towards specific products.
Did you know that 95% of shoppers want to be left alone while browsing? Having the right signage is critical for helping shoppers navigate your store, find products, and stay in the know about promotions and events. Investing in digital signage is a smart step when opening a retail store. Raydiant offers an affordable digital signage solution for small businesses with a 30-day money-back guarantee. Click below for a free demo.
Choose a Layout Structure
The first thing you need to decide is what type of floor plan you want. This will largely depend on the type of store you are opening. Most retail stores fit into one of three basic layout categories.
The three main types of retail floor plans are:
Loop or Racetrack: Best for specialty stores, showrooms, and retailers that want to lead shoppers on a specific path throughout the store.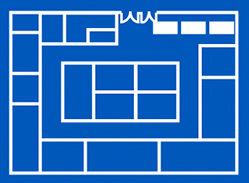 Loop store design
Grid or Straight: This floor plan is exactly what you would expect: straight angular aisles that are typically found in grocery and box stores.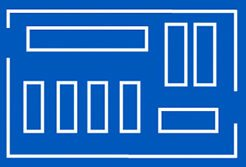 Grid store layout
Free Flow Plan: This is a popular plan for boutiques and allows for lots of creativity in the design process.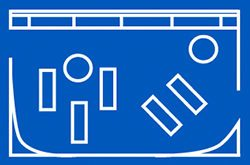 Free-flow store design
Place Your Checkout
A well-positioned checkout will open up prime retail space for displaying products and encourage shoppers to move through more of your store. Instinct might tell you to place your checkout at the front of the store so that it is most visible, or on the right-hand side of your store. But the reality is, the best place to position a retail checkout counter is often on the left side of a store.
Shoppers naturally veer towards the right side of a store when they walk inside. So that's where you want to display money-making products and new products. Some department stores and larger mall retailers place their checkout counters at the back of the store. But for smaller retailers, placing your checkout towards the front makes it easier for staff to attend the register and keep an eye on the entrance.
Position Your Products for Success
Exactly how you merchandise your products will depend on what type of store you have and the layout you choose. But there are a few simple tricks you can use to boost sales in any store environment.
Eye level is buy level: Products placed at eye level instead of above or below are more likely to be seen and purchased.
Place seasonal products and new arrivals front and center: Many retailers utilize a table display five to 15 feet inside the entrance that's updated almost daily to show off new and limited products.
Drive impulse sales at the point of purchase: Think candy at the grocery checkout; placing small, low-cost but useful or appealing items like phone chargers, ChapStick, and lottery tickets is an effective way to drive add-on sales.
Keep it comfortable: Shoppers who spend more time in your store also spend more money; encourage shoppers to stay a while with Wi-Fi, product demos, and comfortable seating.
For more tips on how to merchandise your store, download our store layout ebook for step-by-step instructions.
Download Free Store Layout Checklist
8. Choose & Install a Retail POS System
Choosing your POS system is a huge step in opening your retail store. POS systems are software programs that bring together sales and retail transactions with inventory and other business management tools, so that everything a retailer needs to manage their business is under one streamlined platform.
Using a POS saves time, is easy to use, and provides deeper insights into your sales, inventory, customers, and employee data. Many POS systems also offer built-in payment processing so that you only have to deal with one solution provider. There are many factors to consider when selecting a POS. Before you start seriously considering different options, it's important to write down a wish list of what features you want.
Some of the criteria we use to evaluate POS systems include:
Price: Most POS software programs charge a monthly fee, and some also charge extra for certain features.
Setup and installation process: Some POS systems have a DIY installation process; others charge a hefty processional installation fee.
Ease of use: Test out the POS to make sure the interface is comfortable to navigate; also read user reviews to be aware of any glitches or common problems.
Inventory management: Make sure the solution you use has features to bulk upload orders, set stock alerts, and create purchase orders directly from the system to save you time.
Customer management tools: Almost all POS systems have a customer directory feature, but otherwise they vary greatly in what loyalty, marketing, and customer feedback features are included.
Ecommerce functions: If you have plans to also sell online, make sure the POS you choose also has an online store feature so all of your inventory, customer, and order information syncs between online and offline sales.
For traditional brick-and-mortar stores, boutiques, and specialty shops, we often recommend Lightspeed. It's a small business POS but with big business functionality with custom report builders, advanced inventory management tools (such as built-in product ordering), and offers a sophisticated ecommerce platform. Visit Lightspeed for a 14-day free trial.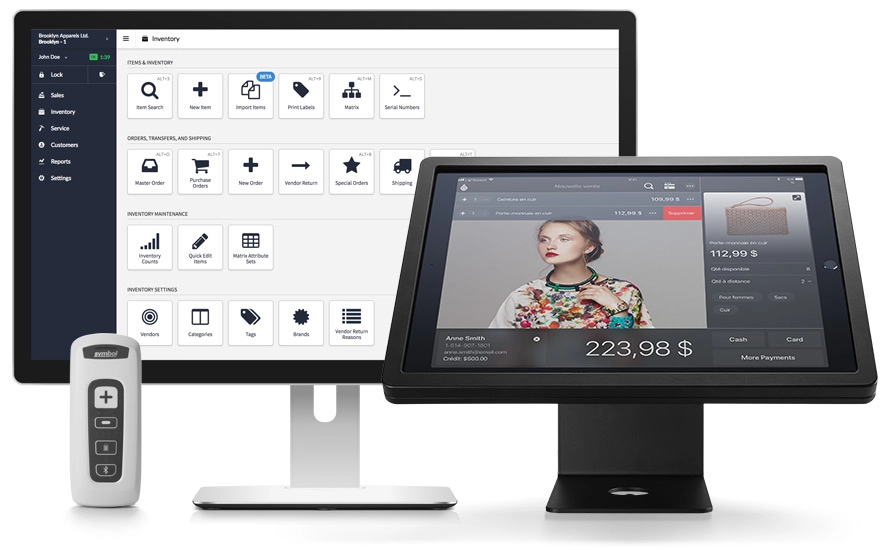 Lightspeed Retail POS
Choose a Credit Card & Payment Processor
After choosing a POS system, the next step is choosing a credit card processing company or merchant services provider. Many POS systems offer their own payment processing and others have you choose a third party. The two most important things to consider when choosing a payment processing company are price and compatibility with your POS.
Credit card processing fees can be notoriously murky and difficult to pin down. Our credit card processing guide defines common terms and breaks down different types of fees in detail.
Essentially, there are three different types of card processing fee structures:
Flat rate: Processing companies charge a set percentage of the transaction; this is usually a good option for retailers such as convenience stores that have lower average sales (under $20).
Interchange-plus: Processing companies pass along the interchange fees from Visa, Mastercard, and similar and add a per-transaction fee on top; this is usually a good option for most established specialty shops.
Tiered: Processors charge a different rate depending on the type of credit or debit card used in the transaction; we typically don't recommend choosing a processor with this fee structure because it's unpredictable and often more expensive.
Some card processing companies also charge monthly fees. Some have lengthier application processes than others. Some traditional merchant accounts also require contracts or have early termination fees. Be careful to read the fine print before signing with a card processing company.
The other thing to consider is whether or not the payment processor integrates with your POS system. Choosing a processor that integrates with your POS is ideal because it prevents human error in transactions and ensures the inventory and sales data in your POS matches reality. We have a guide to choosing the best card processing company, but make sure the processor you choose works with your POS before signing up.
"When setting up systems for your retail store, choose integrated solutions. You want the different programs in your business (e.g., POS, ecommerce, accounting) to "talk" to each other, so information is seamlessly shared between different platforms. This will save you a lot of time—and headaches—because it minimizes human error and makes your job so much easier."

– Francesca Nicasio, Content Marketing Manager, Vend
9. Hire & Train Retail Staff
Last but certainly not least, before opening your store to the public you need to bring on a stellar group of employees to serve as the front lines of your business. If you haven't hired an employee before, navigating the process can be really intimidating. Our New Hire Checklist outlines all of the gritty steps you need to take, such as obtaining an Employer Identification Number (EIN), register for state and local taxes, and so on.
As a small business retailer, it's likely you won't have a dedicated HR team member. Using an all-in-one solution like Zenefits can save you plenty of time and headaches by simplifying hiring, onboarding, payroll, and benefits all in one platform. Visit Zenefits for a free trial.
Write Attractive Job Posts
The first step in writing an accurate and compelling job post is to create the job description for the position you are hiring, whether store associate or shift manager. Then consider what qualities would be a best fit for the position. Finally, add in the beginning of the post what your company is, and why your future employees will love working there.
In addition to using an all-in-one HR management tool, also consider using an applicant tracking system to manage your search for the perfect candidates. Applicant tracking systems are software programs that streamline the hiring process and track candidates from initial job posting to hire. Freshteam offers a free version for small businesses. Visit Freshteam to test it out.
Start Training Before Your Grand Opening
Practice makes perfect with any skill, and customer service is no exception. You want your staff ready to delivery A+ service to your guests and shoppers from the minute your store opens. In order to do that, hold a paid training "boot camp" where you practice customer service skills, review store policies, outline expectations, and teach staff about the products in your store. Find ways to incorporate games and contests to keep the training engaging.
"Most of training is exposure; you tell them what to do and they understand. But until you commit to having a great sales process, in bite-sized lessons that you practice and role play, you won't be able to hold employees accountable. Without accountability to execute that process every time, you'll settle for whoever will work your shifts, you'll cripple your ability to succeed, and invariably you'll use the loser's limp that Amazon was the reason you weren't successful. Training isn't something you did once—it's something you do."

– Bob Phibbs, CEO, The Retail Doctor retail consultancy
10. Plan Your Grand Opening
You've put in months, if not years, worth of hard work conceptualizing your store and building it from the ground up. A grand opening is an essential way to introduce your business to the community with a bang.
Market in Advance
Planning a party only to have no one show up is really disheartening, and definitely not the tone you want to set for your new business. Make sure your event is well attended by recruiting friends and family, but also by starting your advertising efforts as soon as you have a date planned. Draft up a press release to send to local media outlets and neighboring businesses. Create an event on Facebook. Take an ad out in the local paper. Go all out.
"A grand opening is one part of a long relationship with your customers, and social engagement should start four to six weeks beforehand. Emphasize a look behind the scenes rather than simply promoting a one-time event in order to sell your brand experience before your doors open. Whether through targeted hashtags on Instagram, interest groups on Facebook, or a Chamber of Commerce blog, share sneak peeks multiple times throughout this period."

– Chris Guillot, Founder of Merchant Method and Designer of The Merchant Map
Partner With Other Businesses
Working with other similar but non-competitive businesses, such as spas, fitness centers, and other types of retailers is a great way to tap into a pre-existing customer base. By involving other businesses, you'll spread word of your store to their customers, too.
"Before opening, enter into some solid strategic partnerships that would resonate with your target customers. Think about the local chamber, networking groups, schools, or youth sports organizations. You can usually plan to include members in your Grand Opening festivities (e.g., Chamber members at a ribbon cutting, local high school band performance during the day, special shopping pass for members of networking organizations) and ensure some event day traffic!"

– Lauren Goldberg, Strategic Marketing Professional Principal, LSG Marketing Solutions
Create Custom Products
Make your grand opening even more special by creating custom and limited-edition products. These limited products give prospective customers a specific reason to attend your event, and not delay until regular store hours.
"When planning the reason people should come to your grand opening, consider their brand experience and your profit strategy. Pricing incentives are fabulous; just make sure you're not negatively impacting the overall health of your business. I suggest investing in a limited assortment of merchandise—exclusively for your grand opening—and selling that at a promotional price instead of promoting a storewide discount."

– Chris Guillot, Founder of Merchant Method and Designer of The Merchant Map
Final Tip for Starting a Retail Business
Be sure to comply with all local laws and regulations when opening a retail store. These include, but are not limited to:
Federal tax ID or employee identification number (EIN): Used to identify businesses for tax-paying purposes; this is a nine-digit number issued by the IRS that all employers need to apply for.
Sales permit: Issued by the state and allows businesses to sell products and collect sales tax.
Certificate of occupancy: Local government issues a certificate stating the building your business is inhabiting is up to code.
Sign permits: Some local governments require permits for certain kinds of signage, like the one you may want to display on your storefront.
Safety and health information bulletins: You may be required to display certain signage about employee rights or safety information; these are often provided to you, but it never hurts to check with your local government.
If you're unsure where to start or want to be sure you are not missing any compliance aspects, check with your local town hall or municipal center and your local Chamber of Commerce.
Bottom Line
There has never been a better time to start a retail business. In 2018, retail sales reached a record $6 trillion, almost 50% more than the pre-recession high of $4.4 trillion in 2007.
Opening a retail store takes years of planning. But putting in the time to make a detailed plan and execute accordingly will set you on a path to success once your business is operational.